Virtual production
has existed for years but more and more people are seeing its importance and benefits now, partially due to the pandemic and sudden shift to doing almost everything remotely. So if your business is also considering utilising virtual production to produce state-of-the-art videos, this guide to everything you need to know will help you to ascertain if this is the right strategy. Read on to find out more.
What is virtual production?
Virtual production is a seamless combination of both physical and virtual elements using software tools – filming can be done simultaneously while virtual graphics are put together in real-time. The backgrounds and effects produced are made to look like the real deal which also means swapping out locations can be easily done with just a few clicks without having to physically move.
What are the advantages of virtual production?
The advantages of virtual production are endless, which explains why more companies have been jumping on the bandwagon of hiring a
virtual production
studio in Singapore. Not convinced? Here are some ways it can benefit your business.
1. Save time and money
As the saying goes, "time is money" and all businesses can probably agree. Instead of in-person location scouting, everything can be done virtually by selecting from the virtual production studio's library of graphics and backgrounds. This helps to save precious time you would otherwise have to spend on travelling and speeds up the entire pre-production process so that projects can be completed quicker. Additionally, this eliminates any additional expenses such as renting a space or having to fork out more for last minute location changes.
2. Enhance visibility
Rather than having to wait till filming is completed before being able to view the final product, virtual production allows filmmakers and actors to see what the set looks like in real-time thanks to groundbreaking technology. This gives everyone, from investors to production crew and actors, a clearer idea of what needs to be improved while filming is still ongoing instead of waiting till
post-production
. It will also prevent project delays and having to spend extra money to refilm if mistakes are only spotted after filming has been completed.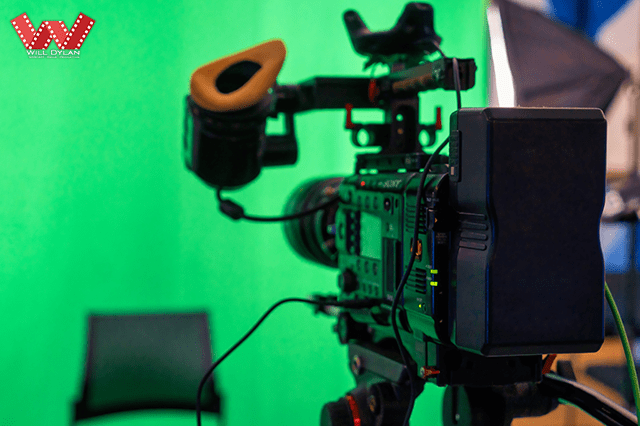 3. Less uncertainty
Virtual production will greatly reduce any uncertainty such as unpredictable weather conditions and inconsistent lighting that is all part and parcel of outdoor filming. You will be able to achieve the same effect and background with virtual graphics but without having to worry about a sudden downpour, time of the day and lighting changes since everything is done in a studio. Digital assets can also be edited quickly when decisions change so you can rest assured that what you have in mind can be recreated any time and any day.
4. Quick transitions
Imagine having to move from one place to another during filming, incurring extra transport costs and spending more time than necessary in the event of traffic. But with virtual production, transitions can be done in mere seconds without having to interrupt filming. This increases the productivity of every single person involved in the project, which will ultimately benefit your company.
5. Choose from pre-built assets
Most virtual production studios offer pre-built assets from their own library that you can choose from, helping to speed up the
production process
to complete the project without any delays as there is no need to build from scratch. Unlike real-life assets that require physical storage, transportation and manpower, virtual assets can be stored digitally for easy access. If you are looking for a virtual production studio in Singapore, look no further than
Will Dylan
. We are an experienced video production company that will assist you in exploring virtual production from start to finish.
Get in touch with us
and revolutionise the content you put out today!